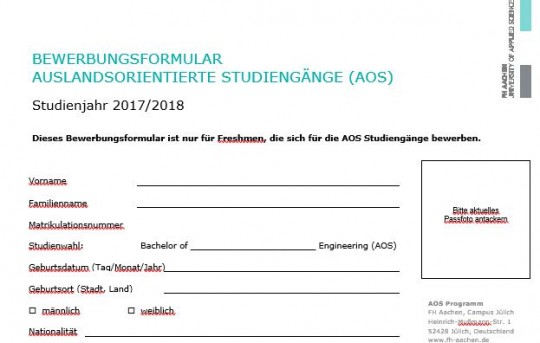 01 Aug

New Update: FH Aachen IOS application & Infomeeting – mandatory
Updates 03., 06., 12. & 31 July & August 2017:
Freshmen, who have missed both appointments, must hand in the following documents on 11 September:
IOS Application documents and data protection sheet (4 pages – you can pick them up at the office)
Proof of payment of the Semesterbeitrag (Kontoauszug) for the FH Aachen Sozial- und Studierendenschaftsbeitrag of 265,66 Euro
updated CV (Date and Signature)
Proof of having a health insurance contract
Proof of 8 weeks of internship
Your current health insurance with Dr. Walter will be canceled automatically by the Institute. Please do not try to cancel it by yourself! 
Obligatory Infomeeting & FH Aachen IOS application
for groups 1-9 on Friday, 30 June in the chapel (details on notice board, next to the class schedule)

Information for:
Your new visa / Sperrkonto (blocked account)
University – IOS application (please bring a pen and a passport sized picture along)
leaving Campus / how to find an apartment
other important appointments!
In case you miss the appointment, you have to take care of your application at the FH Aachen by yourself and will receive your new semesterticket later in September.
Everybody, who did not hand in their CV in class, can't be registered. Send by e-mail to office@freshman-institute.de as quickly as possible.
Published 27 June 2017